02-11-2017, 10:48 PM
x 0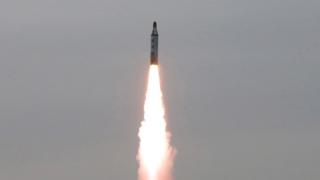 North Korea has fired a ballistic missile, South Korea's military says, in the first such test since Donald Trump took office as US president.
The missile was launched at 07:55 local time (22:55 GMT on Saturday) and flew east towards the Sea of Japan for about 500km, South Korean officials say.
Pyongyang has conducted a number of nuclear tests in the past year.
North Korea's repeated missile and nuclear tests and aggressive statements continue to alarm and anger the region.
Sunday's launch took place from the Banghyon air base in North Pyongan province on the west side of the Korean peninsula.
"Nothing strengthens authority so much as silence"